Advanced technology for healing Tattoos
If you have recently gotten a new tattoo, you may be wondering how to take care of it and furthermore, prevent infection. One of the best ways to protect your tattoo and promote healing is to use TattooWrap brand Tattoo Bandages. These are a hydrocolloid dressings that creates a moist and sterile environment. In addition, it creates a protective coushion for your tattoo while it heals. They are absorbent, adhesive and waterproof, so you don't have to worry about changing them frequently or getting them wet. In fact, you can leave them on for up to seven days.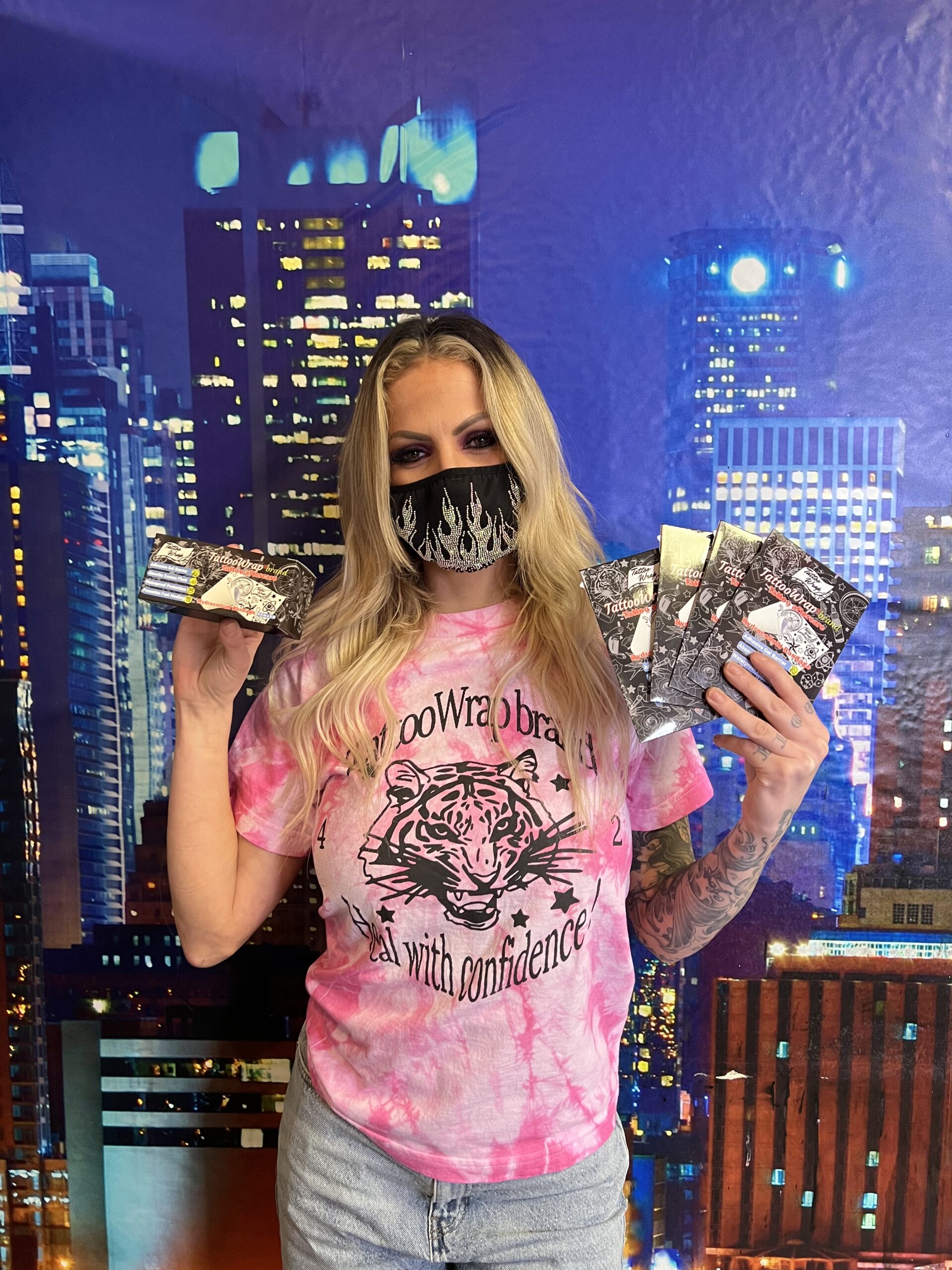 Here are some benefits of using TattooWrap Brand Tattoo Bandages for your new tattoo:
– To prevent scabbing and scarring by allowing your body's natural fluids to heal                itself without drying out.
– Reduces the risk of infection by creating a barrier against bacteria and dirt.
– Reduce swelling and inflammation by absorbing excess fluid and reducing friction.
– To enhance color retention by preventing fading and bleeding of the ink.
– They are comfortable and breathable, allowing you maximum protection and comfort.
How to apply TattooWrap Brand Tattoo Bandages:
– Wait until bleeding resides before applying the bandage. This will allow the bandage to not overfill with fluid and possibly leak.
– Clean your fresh tattoo gently with TattooWrap brand Green Soap Foam and water. Pat it dry with a clean paper towel. Do not scrub your tattoo. Make sure to dry the area surrounding the area to be covered. *TattooWrap does not stick to wet skin.
– Peel off the backing paper from the bandage and apply it over your tattoo. Make sure there is at least one inch of extra bandage around the edges of your tattoo. Smooth out any air bubbles or wrinkles.
– Do not stretch or pull the bandage too tight, smooth out wrinkles and bubbles.
– Leave the bandage on for up to seven days, or until it starts to peel off by itself. Do not remove it forcefully.
How to remove TattooWrap Brand Tattoo Bandages:
– When you are ready to remove the bandage, gently pull back on the corners to release the film. Do not peel it off like a regular band age, do not rip bandage off as this may damage your tattoo or cause pain.
– Slowly pull back on the edge of the bandage to release the bandage adhesive.
 – Once you have removed the bandage, Cleans your tattoo with TattooWrap brand Green Soap Foam to remove any blood, proteins and gel. Pat it dry with a clean paper towel. Do not rub or scrub your tattoo.
– Follow up your cleansing with TattooWrap brand Foam Soap Wash to wash and hydrate your tattoo cells. We recommend waiting a couple of days after removing TattooWrap bandages, then apply a thin layer of lotion as needed.  Avoid products that contain petroleum, alcohol or fragrance. Follow the instructions of your tattoo artist for further care.
TattooWrap brand Tattoo Bandages are a great way to care for your new tattoo and ensure a smooth and beautiful healing process. They are available in different sizes and rolls, cut to fit on any tattoo. You can order them online or find them at select tattoo shops. Try them today and see the difference they make for your tattoo!